The Blue Water Diving Centre
Hugues Vitry founded Blue Water Diving Centre in 1987 when he came back to his motherland with his diving instructor's diploma in hand.
The dive centre is located on the North-Western coast of Mauritius, on the coastal road, between the small fisherman and touristic town of Trou aux Biches (the doe pond) and Mon Choisi.
Taxi drivers will take you there easily.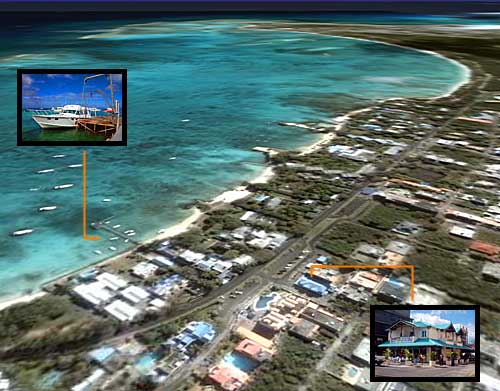 Why the North-West coast of Mauritius?
It is the region of Mauritius with best sea conditions and amazing underwater life. Indeed, the South East monsoon wind blows non stop from May to end of October and the western and north western coast are on the leeward side and thus not exposed to bad weather and heavy seas. This situation allows the growth of soft corals and most fragile corals in calm and warm sea conditions of an unexposed coastline.
The fish and coral life are abundant and this location is also within sailing distance to the remote northern islands with exhilarating dive sites.
Our dive schedule
| | | | |
| --- | --- | --- | --- |
| Activities | Check-in | Departure | Return |
| 1st Dive & 2nd Dive | 08h30 | 09h00 | 12h30 |
|  Deep Dive  (> 40m) | 07h00 | 07h15 | 08h20 |
| Introductory Dive and Refresher | 13h00 | 13h30 | 15h45 |
| Day trips (Northern Island or Whales) | 07h00 | 07h30 | 14h30 |
Blue Water Diving Center is one of the first independant diving centres in Mauritius which was founded in 1987 by Hugues Vitry.

      Blue Water Diving Center is registered or affiliated to the following organisations:

      MSDA (Mauritian Scuba Diving Association), Mauritian Scuba Diving Federation Nº MSDA 0028-N.

              Hugues Vitry is the current President of the National Technical Committee

      FFESSM (Fédération Française d'Études et Sports Sous-Marins) - SCIA Nº 230 10 32C

      CMAS (The World Confederation of Underwater Activities).

             Hugues Vitry was a member of the Executive Board from 1995 to 2000

      PADI (Professional Association of Diving Instructors) - Nº S-25076

            Hugues Vitry is a Honorary member of the Club Pagure de Villanave d'Ornon in Bordeaux.
For further information, please click on the links below: