Shark Diving Safari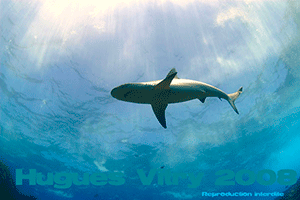 Blue Water Diving Centre organise in season, day trips near remote Northern islands: Gunner's Quoin, Flat island, Pigeon's Rock, Round island and Snake island. Some of these dive are specifically concentrated on diving with sharks.
Dives near these islands are very beautiful and some are just breathtakingly and stunningly nice!
Seasons: We only organise these day safaris from the month of November till May. From end of May till end of October, it winter in the southern hemisphere and Mauritius is under strong South-easterly monsoon winds that renders navigation and access to these dive sites difficult and impossible! 
Booking Conditions : To confirm, divers need to make advanced deposit.  Booking made without advance payment will not be registered and shall not be taken into consideration. 
We are sorry to impose such strict conditions because of some indelicate people making booking and not showing on the day of departure because they have had too much beer the night before.
We want to make sure that everybody who books and comes to the boat be able to go out.
There shall be no refund for cancellation of less than 48 hours before the trip.
Our Safari Includes: Day trip to some remote islands with a 2 dive non-refundable package, cold meal, bottled water, soft drinks, cakes, and fruits!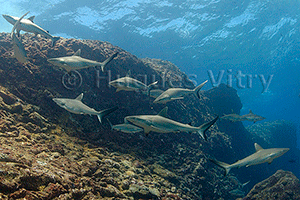 Shark Diving: These dives occur on specific dives sites that are more than 2 hours away from our base. We require that divers fulfil certain conditions before taking them to these dive sites.
Minimum Level required: Even if these dives are not really deep and accessible to level one divers, we require that the divers must have a minimum of 30 confirmed logged dive in their logbooks.
Special Precautions: We also require that all diver wishing to join us for the first time on these dive sites, undergo a first dive on our regular dive site regardless of their level. Indeed this precaution is very important as by experience we actually meet more problem with highly qualified divers more that with less experienced divers.
The bad behaviour of a disrespectful diver, who is trying to take pictures or video paying no attention to his buddy divers, can disturb the animals and make them leave the dive site. Our main aim is to make sure every diver taking such a long trip, comes out with the best memories of these dives.