Dive sites from 25 to 40 metres
The following dive sites will bring qualified divers to explore Mauritius down to 40 meters (132 feet). You may find shallower dives for Level 1/Open water divers in the previous section 0-25 metres.
For PADI divers, the regular diving depth is limited to 30 meters (100 feet) except for divers holding the PADI deep dive certification (dive down to 40 meters (130feet) allowed). If you don't have this certification, we suggest you get CMAS 2 with a few additional courses. For more information, please contact us!
1. Corsair wall (33 to 60 metres / 100-180 feet)
Navigation time: 15min

This dive site is divided into several pinnacles with schools of blue fusiliers and butterfly fish. Big fish (tunas, jacks, eagle rays, barracudas and sharks sometimes) are present on these pinnacles when the current is coming from the deep to the shallow areas bringing food and nutrients to small fish on top of these pinnacles...

Video interest: ***

Photo interest: ***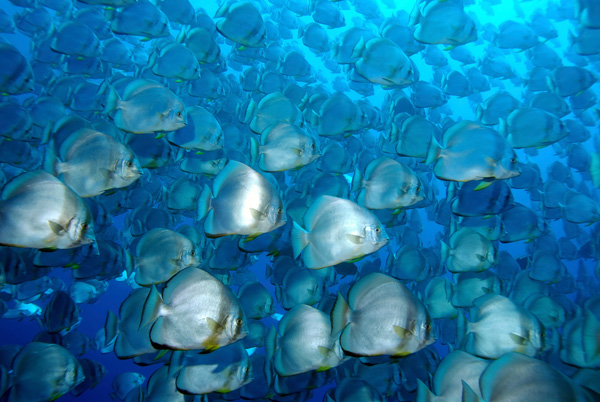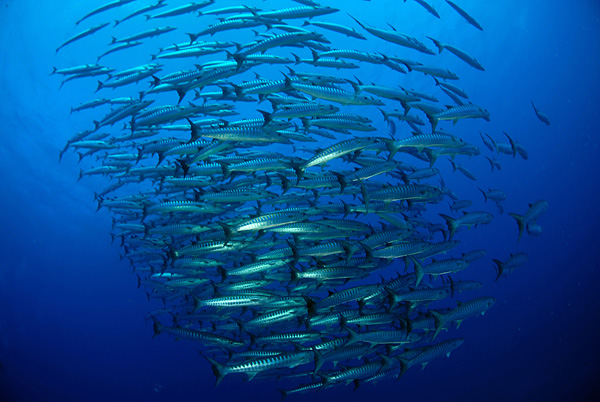 2. Corsair wall 2 - Eagles peak (33 to 60 meters / 100-180 feet)
Navigation time: 15min

Upper part of a pinnacle where big schools of blue and yellow fusiliers can be observed along with dogtooth tunas, blue jacks and hammerhead shark sometimes.

Video interest: ***

Photo interest: ***
3. Djabeda Wreck (27 to 34 metres / 90-115 feet)
Navigation time: 50min

Djabeda is situated on the southern side of Coin de Mire Island at swimming distance form Confetti Bay. She lies proudly on a vast sandy bottom that, on good weather, provides pristine clear water and spectacular turquoise blue feelings.

The old Japanese fishing boat was sunk in 1998 to create an artificial reef. She lies in a region with, sometimes, quite a strong current that makes the dive impossible. A school of blue stripped yellow snapper has taken refuge inside the wrecks and the wreck is surrounded by schools of blue fusiliers. It is common to observe dogtooth tuna, Jacks, giant red snappers, sting rays and other predators around the wreck.

Video interest: ***

Photo interest: ***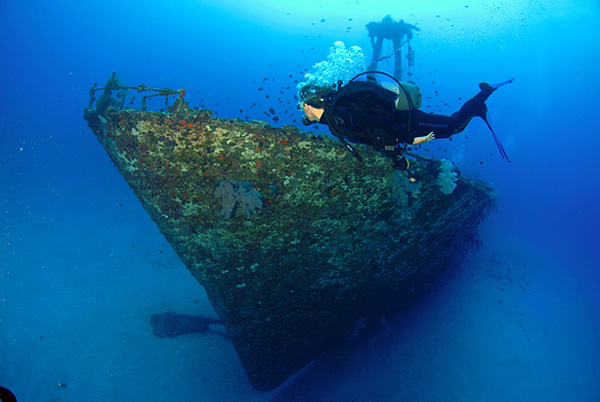 4. Silver Star Wreck (34 to 39 metres / 112-130 feet)
Navigation time: 40min

Silver Star is a beautiful wreck sitting now on its keel by 39 meters. Until the passage of the cyclone Dina in January 2002, its mast stood up on a dozen meters, colonized by beautiful soft coral colony. The cyclone carried the soft corals away; they are back but not as it was before. Nevertheless, this dive can be full of surprises and the divers can come upon mating sting rays, barracudas, wahoos, jacks or guitar shark lying on the sandy bottom next to the wreck.

This wreck is also home to a couple of frogfish almost invisible to the eye of common divers.

Video interest: ***

Photo interest: ***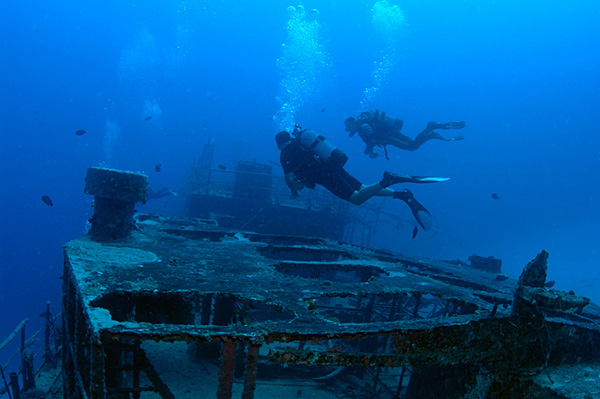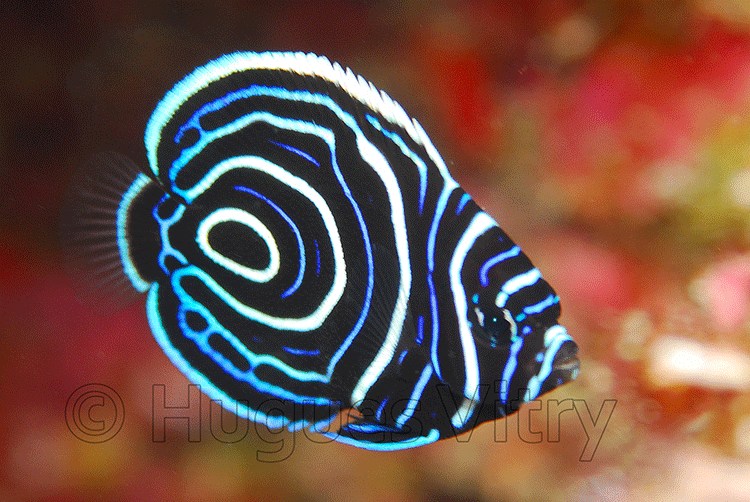 5. Stenopus Reef (25 to 40 metres / 75-130 feet)
Navigation time: 20min

A very beautiful dive site starting on a sand bottom by 33 meters where very often a school of eagle rays fly motionlessly in the current next to two small pinnacles. The pinnacles are decorated with large orange fan coral, soft corals and the fragile, brittle and thin glass coral (Tubastrea micrantha).

Barracudas, Jacks and sting rays are also around the spot hunting in the swarm of blue fusilier and yellow back fusiliers.

This dive goes down to 40 meters and slowly sloping up to approximately 10 meters if the current is in the right direction.

Video interest: ****

Photo interest: ****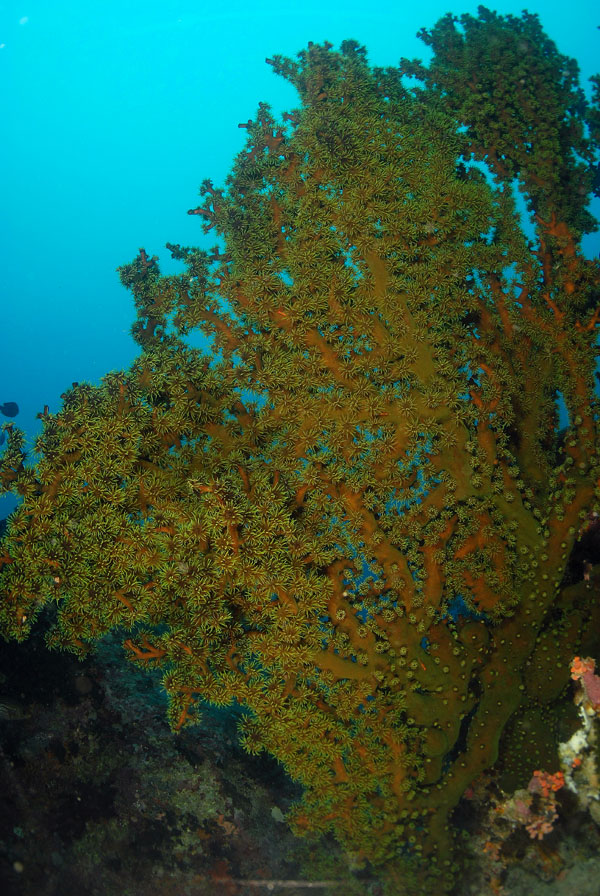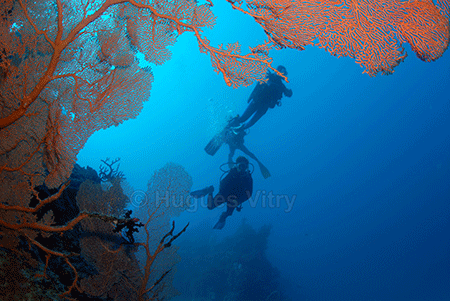 6. Black Forest (25 to 40 metres / 75-130 feet)
Navigation time: 20min

A real forest of glass coral (Tubastrea micrantha) with thick trunk, where sometimes groupers, angelfish, porcupine fish and sabre squirrel fish are hiding. This is a very special dive on the plateau just before the slope to the deep.

Video interest: ****

Photo interest: ****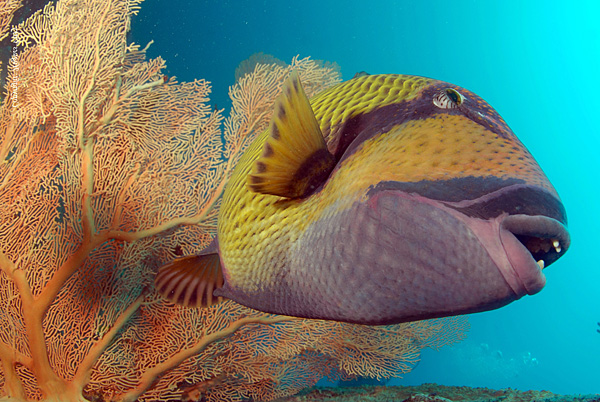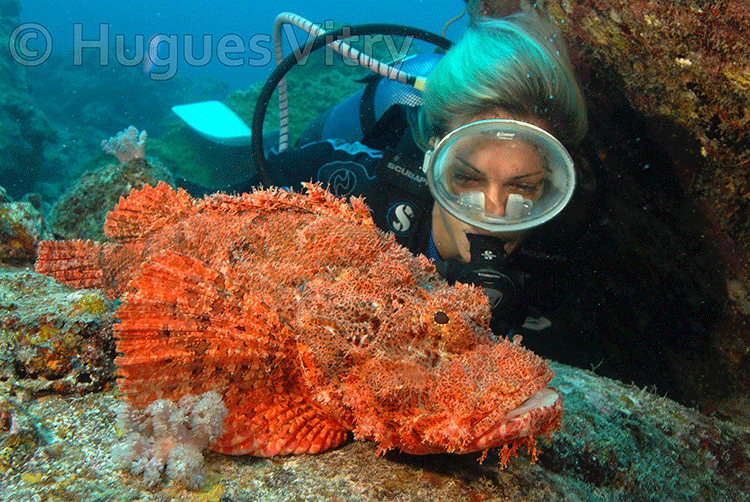 7. Jardin de Roses (39 metres / 129 feet)
Navigation time: 20min

The rose coral are known to be quite rare around the world (another well known location is in Moorea, French Polynesia at 50 meters depth). In the Trou aux Biches region, we have a field of rose coral at 40 meters that covers a few hundred square meters. Diving on this dive site seems to be on a limitless field of coral. These corals being very thin and fragile, that is why boats should never anchor on these dives sites. The paradox of this dive is that the beauty of the coral field is so intense that divers forget to see the many species of fish hiding between them...

Video interest: ***

Photo interest: ***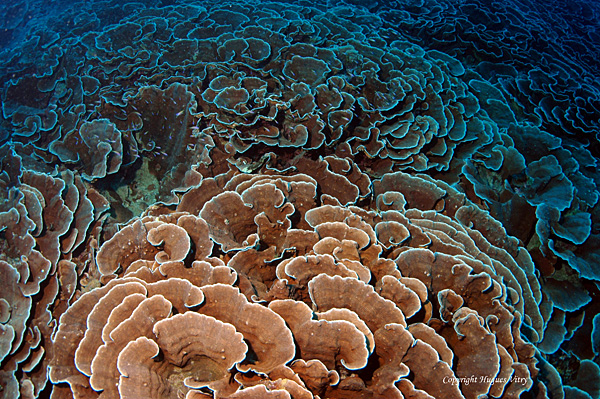 8. Small Cathedral - Allen's Abbey (27 to 48 metres / 90-158 feet)
Navigation time: 20min

This dive site is next to a drop off and it is not uncommon to see big fish. There are lots of fan corals and glass corals in a mineral landscape. The place called Cathedral is actually a big cave with a wide opening in the ceiling and a nice arch entrance with a flat rock in the middle just like an altar. Giant moray eels, langoustines, angelfish, rock grouper, anemone and clownfish, fan corals whip corals and soft corals can be seen there.

Video interest: ***

Photo interest: ***
9. Hidden Reef (Whale Rock) - Canyons (14 to 36 metres / 45-120 feet)
Navigation time: 25min

This dive site is at the Cape of Canonniers' point and is not always practicable because of strong currents. Amazing landscape of big boulders with many hiding places for fish species. Passage point for big fish.

Video interest: ***

Photo interest: ***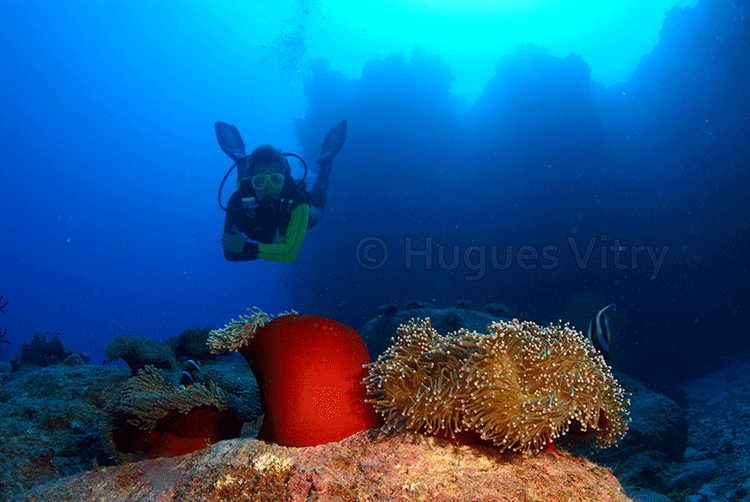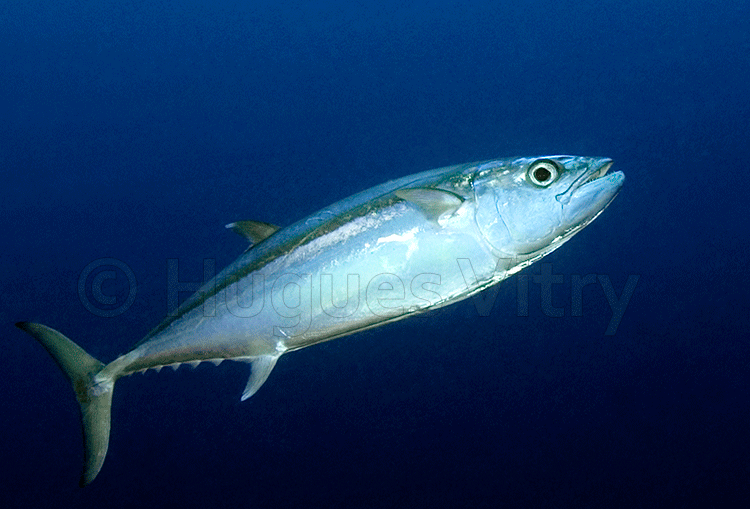 10. Hidden Reef (Whale Rock) - Amphitheatre (14 to 26 metres/ 45-65 feet)
Navigation time: 25min

This dive site is at the Cape of Canonniers' point and is not always practicable because of strong currents. The dive site has an amazing landscape and the divers explore alongside a small wall decorated with fan corals, soft corals and glass corals. Divers can see schooling fusiliers, rudder fish, batfish and giant moray eels. Passage point for big fish.

Video interest: ***

Photo interest: ***