Rates for CMAS Courses
 CMAS is the World Underwater Federation and it federates some 109 nations worldwide.
 It was founded in 1954 in Monaco and is now based in the International Olympic Centre building in Rome, Italy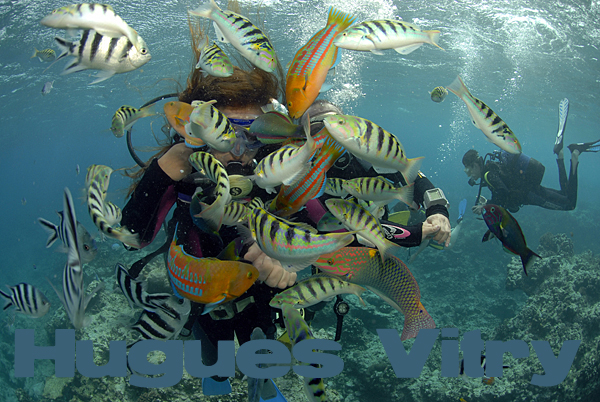 Introductory dive: instructor holding hand of beginner diver in a colourful fish bouquet!
For conversion at daily rates, please use the following link: Conversion Euro - MUR
Beginner's Course
Intoductory Course:

3,650.00 Mur

76.50 

Euros

Tourist Diver (3 sessions)

8,850.00 Mur

185.00 

 

Euros
Junior CMAS Courses
BRONZE DOLPHIN:  (8 - 10 yrs)
9,500.00 Mur
195.00 

 

Euros

SILVER DOLPHIN:  (10-11 yrs)
11,500.00 Mur
270.00 

 

Euros

GOLD DOLPHIN:  (11-12 yrs)
15,250.00 Mur
325.00 

 

Euros
CMAS Courses
CMAS 1 Star Certificate (P1)
19,800.00  Mur
  414.75 

Euros

CMAS 2 Star Certificate (P2)
28,600.00  Mur
599.10 

Euros

CMAS 3 Star Certificate (P3)
36,300.00  Mur
760.50 

Euros

CMAS Assistant Instructor Course
49,500.00  Mur
995.00 

 

Euros

CMAS Emergency First Response
9,900.00  Mur
207.50 

Euros
DIVING INSTRUCTOR COURSES
Blue Water Diving Center is one of the only 3 dive centre in Mauritius authorized to train and certify divers up to the CMAS 2 STAR Instructor level.
Hugues Vitry is a CMAS Staff Instructor. He is often appointed by the Technical Committee of CMAS to run and certify CMAS 3 STAR Instructors in foreign countries where no CMAS affiliated Federation exists.
Minimum Level requested: CMAS 3 STAR - Assistant Instructor (P4)

30 days pedagogical internship in an affiliated CMAS dive centre

Length of final stage: 14 days
For additional information on INSTRUCTOR COURSES, contact us!
Payment by Credit Cards accepted with selected Credit Cards as follows:

Conditions apply